Product Description
PTFE commonly known as "plastic king", is made of tetrafluoroethylene polymer compounds, with excellent chemical stability, corrosion resistance, sealing, non-viscosity, electrical insulation and good aging resistance.
In general, it is used in corrosion-resistant pipelines, containers, pumps and valves with high performance requirements, as well as radar, high-frequency communication equipment and radio equipment.
PTFE with three main types: Suspension powder, Dispersion powder and dispersion liquid. All have good properties and is widely used which include:
* Can be made into a water dispersion, used for coating, impregnation or fiber.
* Made PTFE tube, rod, tape, plate, film.
* Used for capacitor dielectric, special cable insulation layer, wire insulation, electrical instrument insulation and sealing gasket.
* Made non-adhesive tape, sealing tape, stripping.
Characteristics of PTFE
* Superior properties of chemical inertness: resistant to acid, alkali and all kinds of organic solvents, insoluble in nearly all solvents.
* Excellent temperature resistance: it can maintain its mechanical strength over a wide temperature range between +250℃ and -180℃. Even if the temperature drops to -196℃, it can still keep 5% elongation. Maximum working temperature: 260℃.
* Outstanding dielectric performance: low dielectric constant over a wide frequency range with high breakdown voltage, volume resistivity and arc resistance. It is excellent C grade insulation material.
* Flame retardancy: Limiting oxygen index(LOI) is above 90%.
* Good weatherability resistance: best aging performance, good radiation resistance and low permeability. Keep retention of surface and properties even after long time exposure in the atmosphere.
* Non-viscosity and low friction coefficient: its interfacial tension is the weakest among solid materials, making it inadhesive to any stuff.
* Non-toxic: With physiological inert.
Processing Technology-PTFE
*Suspension powder PTFE--its general processing methods include compression moulding, hydraulic moulding,automatic compression moulding, and ram extrusion. For detailed parameters, Pls refer to handbook for processing guide.
*Dispersion powder PTFE--its general processing methods include screw extrusion moulding, calendering moulding. For detailed parameters, Pls refer to handbook for processing guide.
*Dispersion liquid PTFE--PTFE aqueous dispersion can be used in fiber coating, glass cloth coating or impregnating and other processing products.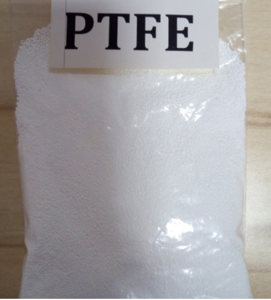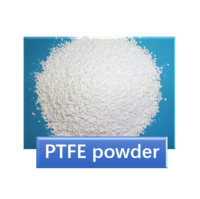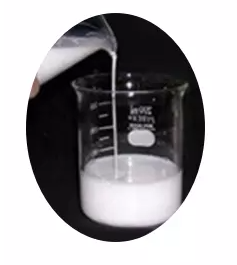 Storage and handling-PTFE POWDER
The products should be stored in clean, cool, shady, draughty and dry warehouses so as to avoid the contamination of dust and moisture. During transportation, strong shock must be avoided to prevent the resin from any cases of agglomerate.
Packing-PTFE POWDER

* Product is packed in double layer plastic bags, inside bag is made of polyethylene resin,and outside bag is made of polyvinyl chloride. The bags are packed in cardboard drums lined with moisture-proof plastic film. Net weight of per drum: 25kg.
* Products can also be packed according to customers' requirements.