Product Description

FEP is one kind of fluoropolymer.
(A fluoropolymer is a fluorocarbon-based polymer with multiple carbon-fluorine. It is characterized by a high resistance to solvents, acids and bases.)
Fluorinated ethylene propylene(FEP) is a copolymer of tetrafluoroethylene(TFE) and hexafluoropropylene(HFP). With good thermal stability, prominent chemical inertness, desirable electrical insulation and low friction coefficient, it can be processed with thermoforming technique. It can be classified into four grades in view of differences in melting flow rate(MFR).
FEP differs from the PTFE resins in that it is melt-processable using conventional injection molding and screw extrusion techniques.
FEP was invented by DuPont and is sold under the brandname Teflom FEP. Other brandnames are Neoflon FEP from Daikin or Dyneon FEP from Dyneon/3M.
FEP is very similar in composition to the fluoropolymers PTFE (polytetrafluoroethylene) and PFA (perfluoroalkoxy polymer resin).
FEP and PFA both share PTFE's useful properties of low friction and non-reactivity, but are
more easily formable.
FEP is softer than PTFE and melts at 260 °C; it is highly transparent and resistant to sunlight.
Product Paramenters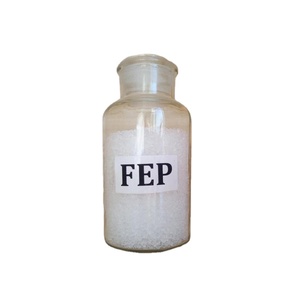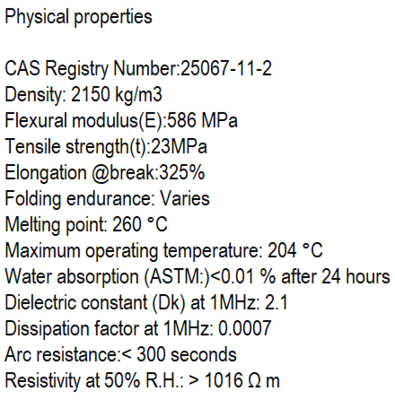 Quality Specification
| | | | |
| --- | --- | --- | --- |
| TRADEMARK | MI g/10min | MAIN PROCESSING CRAFTS | MAIN APPLICATION FIELD |
| DS605 | 0.1-32 | Spray | Powder paining |
| DS603 | 0.8-10 | Impregnation | PI-film coating,Glass fiber impregnation |
| DS602 | 0.8-2.0 | Molding | Valve lining |
| DS611 | 2.1-5 | Extrusion | Stress cracking resistant jecket,Tube,Film |
| DS610 | 5.1-12 | Extrusion | Pipe&Thickness cable extrusion |
| DS618 | 12.1-28 | Extrusion | Thin cable extrusion |
| Electronic line-DS618 | 20-30 | Extrusion | Electronic wire&Fire retardant cable.etc |
| DS628 | 20-30 | Extrusion | Foaming cable&Radio frequency cable.etc |
Attention: The melt index in the table refers to the range of the values, Customers can choose the appropriate scope according to your use(General about ±3)
Application
FEP is mainly used for wiring, e.g. hook wire, coaxial cable, wiring for computer wires and technical gear.
FEP film can be used to protect molds during the curing process.
FEP semi-finished products like pipes, round bars, and sheets for lining containment vessels, gas scrubbers, and tanks are being used in diverse applications in the chemical-processing industry to safely contain and distribute highly-aggressive chemical compounds.
It is also used in UV cured resin 3D printing.
Storage and disposal
FEP resin should be stored in clean, cool, shady, draughty and dry warehouses. keep it away from heat sourse, at least 1m away. Term of validity: 5 years from the production date.
Packing
FEP copolymer should be packed in polyethylene plastic bags and then sealed in external package bag. Net weight per bag: 25kg.
Products can also be packed according to clients' requirement.